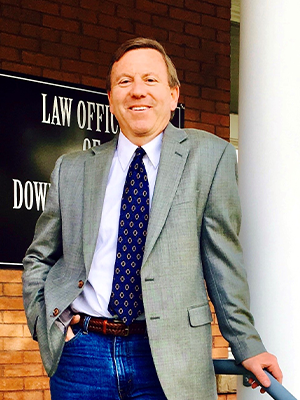 As a born and raised Bostonian, I grew up wanting to play professional soccer, but I didn't realize my sports career would lead me to the practice of law. One day, shortly after I moved to Texas to attend Trinity University, my school's varsity soccer team was having a relatively poor game. Being the new guy on the team, I wanted to make a good impression and contribute to the group. So I did my best to get the team motivated and pump everyone up with positive energy. My coach took notice and offhandedly said he thought I'd be a lawyer one day. I asked him what he meant, and he told me that I had a natural talent for persuasion. His comment stuck with me, and after studying the law in my undergraduate program, I decided to attend law school. After that, I never looked back.
My coach's prediction turned out to be spot on. I enjoy every day of my job, and I couldn't imagine doing anything else. I love meeting new clients, counseling them one-on-one and determining how I can be of service. The majority of my clients have suffered a traumatic injury and have never hired a lawyer before. And so, it is my duty to simplify the legal process and take the stress off their shoulders. I strive to maintain an open door policy at the firm because I understand how my clients' cases impact their entire lives, and I always want them to feel comfortable. It's because of my positive attitude and genuine concern, I think, that my clients and I can build such great relationships. These relationships allow me to truly understand my clients and their cases so I can best represent them in the courtroom.
Clients often chat with me about what's going on outside of their cases, and that helps us build true relationships.
After receiving my undergraduate degree, I spent two years working in the claims department of United Services Automobile Association before attending law school. During that time, I gained valuable insight into the insurance industry while adjusting claims. Ever since I became a lawyer, my primary focus has been on advocating for individuals and small businesses. During my 25+ years of practice, I have recovered millions of dollars on behalf of businesses and individuals who have sustained injuries. Most notably, I have successfully pursued and had successful recoveries against companies such as General Motors, Target Corporation, Verizon, State Farm Insurance Company, Kroger Corporation, Exxon, HEB, Allstate Insurance Company, Albertson's, Clear Channel Communications, Kaplan Education, and Wells Fargo.
When I'm not at the firm, I try to spend as much time outdoors as possible. Like many of the lawyers at Downs, Mcdonough, Cowan & Foley, LLC, I enjoy skiing, hiking, backpacking, and working out. That's why Colorado is the perfect setting for me. I also spend a lot of time with my family, including Attorney Chris Cowan, my brother-in-law. I have been married for over 26 years, and I have two wonderful children.
Education
Certified Mediator - Dispute Resolution Center, 2009

JD - St. Mary's University, 1991

BA - Trinity University, 1986
Professional Association & Membership
Colorado Supreme Court

Texas Supreme Court

United States District Court, Western District of Texas

San Antonio Bar Association

San Antonio Bar Foundation

Board of Directors, Eckard Recovery Services

Southwest Colorado Bar Association
Community Involvement
Youth Coach, Boerne Soccer Club

Youth Coach, Boerne Youth Baseball Association

Parent Volunteer-Team Manager- Classic Elite Soccer Club

Presenter at Middle School and High Schools on Entrepreneurship and Career Opportunities

Hundreds of hours in pro-bono service provided to the disadvantaged in needs of legal services

Member High-Noon Rotary, Durango, CO